Faculty: W.Darlene Reid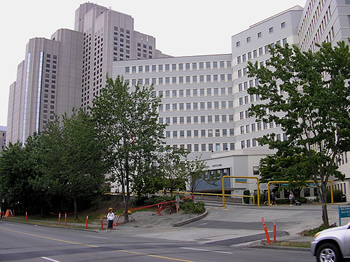 Located on the 6th floor of the Research Pavilion at the Vancouver General Hospital site of Vancouver Coastal Health Research Institute, the Muscle Biophysics Laboratory is ideally located to investigate muscle performance using mechanistic tools and functional outcomes on people with chronic conditions.
The Rehabilitation Aimed at Muscle Performance (RAMP) Research Program, centred from the Muscle Biophysics Laboratory, enables ready access to a variety of clinical research venues. The program provides opportunity to perform studies that span the spectrum from mechanistic physiologic investigations, exercise training, and functional outcomes to knowledge translation /implementation studies
Vancouver General Hospital is the largest teaching hospital in British Columbia. The RAMP lab serves as a multi-user, interdisciplinary facility dedicated to excellence in muscle performance research. This laboratory has collaborative links with the Orthopedic Trauma Team, Pulmonary Rehabilitation, Radiology, Spine research and the Respiratory Division. Research trainees at the clinical Masters, research MSc, PhD and PDF training levels with backgrounds in physiotherapy, medicine, and exercise sciences have the opportunity to perform research in this facility.
The laboratory has 1000 square feet of research space with equipment to perform clinical studies that require 1. image analysis, 2. near infrared spectroscopy during exercise, 3. respiratory muscle performance, 4. handheld dynamometry and inclinometry, 5. research trainee room with network connected computer workstations.
Regular seminar series at this facility and at the Department of Physical Therapy in collaboration with other faculty who perform studies that focus on physical activity in chronic disease.   Those who are interested in performing research or participating in these seminars are invited to attend or to connect on-line. Please e-mail us at muscle.biophysics@ubc.ca if you are interested.